Feb. 03, 2017


The one place you must go…
Florence Williams's article(1) caught my eye--and then prompted me to go outdoors.
She says being in nature calms the mind . . . and makes us happier.
I believe her.
One of my favorite places to be is on some hiking trail with my dog.
And, some of my best ideas have come to me while walking or running--outside.
As Williams suggests, it is because the outdoor walk or run helped me clear my mind, put me back in balance, and gave me focus. All of which made it possible for me to see those new ideas.
So, after reading the article… what do you think I did?
Took a break from my work … to just "be" outside.
And, yes. It did help me focus--and refreshed me.
Perhaps, I even felt more balanced too.
Nature shows us what is important, and especially when we really need to know.
But, it is also a safe place to just "be," as the article says.
Sometimes as writers and educators, it can be difficult to make time for those breaks because of all we have to do.
There is this to write. And that to do.
While it may seem like taking a break would be contrary to our goal… that break may be the best thing for our wellbeing, our goal, and even our soul.
So, if you feel bogged down or just in dire need of some alone thinking or quiet time, give yourself permission to be in nature.
Take that walk. Go for a run. Sit on a park bench. Hug a tree. Just "be" in nature.
It may be the healing you need to move forward again.
All the best,
Serena
(1)Williams, F. (2017, January 28-29). The power of a dose of nature. The Wall Street Journal, C3. Retrieve it from here.
---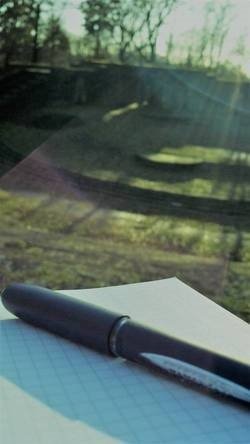 5 Writing Prompts
1. Pick a place outside. Go to that place, and write about it. Or, write what comes to you, while you're there.

2. Think of the last time you were in nature. What animals did you see? Write about one of them.

3. The Giving Tree is a story about a tree that gives everything he has to a boy (later, a man). Create a story about an animal who also gives all he has to a human.

4. Write about your favorite place in nature. Is it a particular nature trail? Or, a special spot in your back yard? Write about it and why it is important to you.

5. Create an outline for a book you'd like to write. After you've created a rough outline, write about why it is important for you to write this book and how it will help readers.



Note to Subscribers: The writing prompts can be used in the classroom or for creative free writing. Adapt them for your situation. Enjoy and be creative!
---
What's New on SBWriting.com?
Here's the latest articles on SBWriting.com:

The Latest Advertising Trend: How To Use It To Improve Student Writing


Why I Use SBI

P.S. Have something to share about today's issue? Please share!

P.P.S. Did you miss an issue? Free back issues are available.


---